Export of culture from Košice to Europe is gaining momentum
A native of Košice, Ján Mathé, 20th century's great figure of sculptural art, will be soon presented to Britons at the Slovak Embassy in London. The exhibition opening starts on 23rd April at 18:30. Visitors can then enjoy the stone treasures for a month.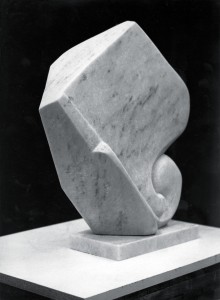 Travelling City with Ján Mathé
Export of culture from Košice to Europe is unstoppable. Ján Mathé was one of the first Czechoslovak sculptors to present existentially insistent, yet then a taboo, motif of sculptural rendering of matter, the motif of pain, anxiety, containment in ourselves.
The TravellingCity project brings the creations of this unique sculptor to London for the first time. More than thirty sculptures made of marble, travertine, gypsum and wood prove the rich artistic treasure left by Ján Mathé. European Capital of Culture – Košice 2013, is publishing a book entitled 4 + 40 personalities (significant personalities of East Slovakia). One of the personalities is Ján Mathé, sculptor, with a devoted special medallion.
During the ECOC – Košice 2013 Opening Ceremony, a square in the Mier housing estate was named after the Košice sculptor. The square is dominated by a fountain with a monumental sculptural group, Resting Family. Mathé's best works include Fruit of Life, Combing her Hair and many other sculptures located across the entire Košice. However, ján Mathé has not said his last word. There are more events associated with him coming soon.