Tape riots in the Košice streets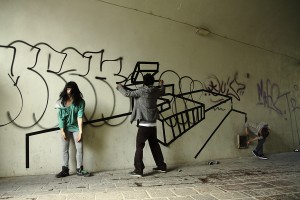 Hungarian artists' experimentation with the forms of musical theatre was fully expressed on Saturday afternoon in the streets of Košice. A crowd of people went for the music. Well known songs performed by the HOPPart theatre company echoed in the City Park, under the old bastion and on Zvonárska street. Without any musical instruments they managed to emulate current hits by Lady Gaga and Britney Spears. They also included Hungarian singles. The icing on the cake was the last song by the Košice band Puding pani Elvisovej – Gramatika (Grammar) which our southern neighbours perfectly imitated.
Smiles and bemused expressions were seen on the faces of those who met with HOPPart "on the move" and had no idea what was going on. So they decided to stop and enjoy the non-traditional joining of music and public space.
A dose of truly non-traditional performance (art, where the actions of the group in a particular place and time constitute the work of art) was provided by the German Asphalt Piloten group. Their canvas and stage were buildings, stairs, niches and subways. Two dancers, who adapted a newly built city with black tape. An artist – draped with speakers, cables, tablets and phones – recording sounds of the environment that best approximate the sound of the newly built centre on the walls of buildings. A builder, whose imagination shows him to stick tape on almost every corner to form images, which will delight fans especially of graffiti.
The tape riot was seen by many Košice residents, who watched with interest and asked what the artists were trying to do. As soon as the Asphalt Piloten have left a particular place, people flocked to the area and saw it made beautiful with unusual materials. This is also one of the goals of the USE THE C!TY festival – to highlight parts of buildings, which nobody would notice under normal circumstances.