We are searching for emerging Slovak artist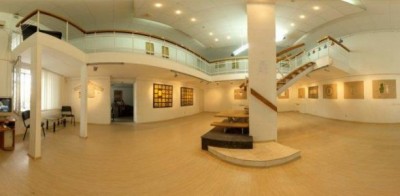 Kharkov is the second largest city in Ukraine with a population of 1.5 million inhabitans. The city was founded in the 17th century. Nowadays, Kharkov is one of the most important scientific and cultural center of the country as well as a students´ center with more than 150.000 students; including 9.000 foreign students from 90 countries. Kharkov is a city with rich cultural tradition, six major theatres, numerous museums, concert halls and galleries. The city has a dozen libraries with more than 6.5 million books.
Kharkov City Art Gallery
The Kharkov City Art Gallery, one of the first galleries in Ukraine that has the municipal status, was founded in 1996 and since 1997 it is a member of the Association of Art-Galleries of Ukraine. Primary task of the gallery is the popularization of contemporary art from Kharkov, Ukraine and from abroad. The gallery is the most important center for contemporary art in Kharkov and well known beyond the borders of the city. Over the last 15 years, the gallery organized about 400 exhibitions, curatorial projects and art actions in the gallery as well as in the public space; including international solo and group exhibitions from artists from Austria, Great Britain, Germany, France, USA, Poland, Russia, Moldova, Israel and Armenia.
In addition to the exhibitions, more than 200 cultural actions took place in the gallery: performances, concerts, chamber plays, literature evenings, lectures, master-classes, designer's fashion shows etc. Every second year, the gallery is organizing "Non Stop Media", the biennale of young and contemporary art in Kharkov and Ukraine. The artist at residency will have opportunity to be active participant of the biennale.
At the Disposal of the Gallery, there is a secular (standing) hall with around 120 m² exposition areas with modern interior and professional equipment.
FACTS
What we provide
Two months long residency in Kharkov, Ukraine: from March until April
Free accommodation (fully furnished with kitchen, no room service)
 Honorary: 500 €  per month
 Travelling costs
 Material costs up to 500 €
The artist is responsible for his/her health insurance
What we demand
We are searching for emerging Slovak artist, who is open for collaborations with local artists
Individual artist, no duos or groups
One presentation during the residency and final project/exhibition at the end
 Compulsory attendance
Application
PDF n°1: Curriculum Vitae – Please send a short CV including your name, address, phone, email along with educational and exhibition background
PDF n°2: Letter of motivation and objectives – Briefly describe your motivation to come to Kharkov and the first ideas of projects you would like to realize
PDF n°2: portfolio with artist`s statement
All material must be in English language
Deadline: 3rd February 2014, via Email to zuzana.kotikova@kosice2013.sk