Exhibition of Japanese culture – bonsai, go, shogi
To celebrate the 20th anniversary of cooperation and good relations between the Slovak Republic and Japan, European Capital of Culture – Košice 2013, in cooperation with EU Japan Fest – Japanese company to support the dissemination of Japanese culture in Europe, prepared a number of interesting events presenting Japanese culture fort the weekend of 25th – 26th May 2013.
Exhibition of the best Slovak bonsai
25th May 13:00 to 18:00, and 26th May 11: 00 to 18:00, foyer of the House of Arts, Moyzes Street 66.
Exhibitors:
Milan Rozkoš, Vranov nad Topľou;
BONSAI SLOVAKIA, Vladimír Ondejčík and Alena Ondejčíková, Nitra
www.bonsai-slovakia.sk
In addition to admiring the seventy beautiful bonsai plants, visitors have a unique opportunity to learn a lot from these experienced bonsai-growers.
Special guest Mr. Takahiro Mori (Tokyo, Japan) gives a lecture on 26th May at 15:00 to demonstrate the treatment of bonsai.
Go and shogi – traditional Japanese board games
Traditional Japanese go and shogi games presented by Slovak experts (Slovak Go Association, and Slovak Shogi Association, Adam Skalný and Lukáš Vyletel).
Presentation, game: as part of the CardboardCity near Urban's Tower (26th May 13:00 to 18:00).
Duel between the Japanese professional go player Murakami Akihide and a Slovak player.
25th May 15:00 – foyer of the House of Arts, Moyzes Street 66.
What is go?
Go is a board game for two players with more than a 2.500-year history and tradition. Despite its simple rules, the game is very complex and has an incredibly large nuber of variations. Chess grand champion Emanuel Lasker said about go: "The rules of go are so elegant, organic and strictly logical, that if there are any intelligent life forms out there in the vast universe, they certainly play go." Fans of go in Slovakia participate regularly in national and international go competitions, where they train and exercise their minds and spirits, and also strengthen friendly relations and raise awareness about the game in other people.
http://www.sago.sk
What is shogi?
Shogi is approximately 1.500 years old, and it is part of Japanese culture. It is a little known traditional art, recently performed only by a small group of professional players in Japan. This Japanese board game belongs to the same group of games as our chess, Chinese xiangqi, Thai makruk and ancient Indian chaturanga. All these games are derived from a common ancestor, therefore shogi shares with the other games the same goal in the game – to give checkmate to the opponent's king. However, it differs from the rest in several aspects.
The shogi board has nine by nine boxes with twenty pieces on each side. Unlike chess, where a pawn can be exchanged for another piece only under certain circumstances, in shogi almost all pieces can be promoted and thus gain new freedom of movement. Undoubtedly the most interesting difference is adding. In shogi, disqualified pieces are imprisoned by the opponent, and he can later return them to the game as his own pieces. Mainly due to the adding, shogi became a dynamic game that rarely ends in a draw.
www.sogi.sk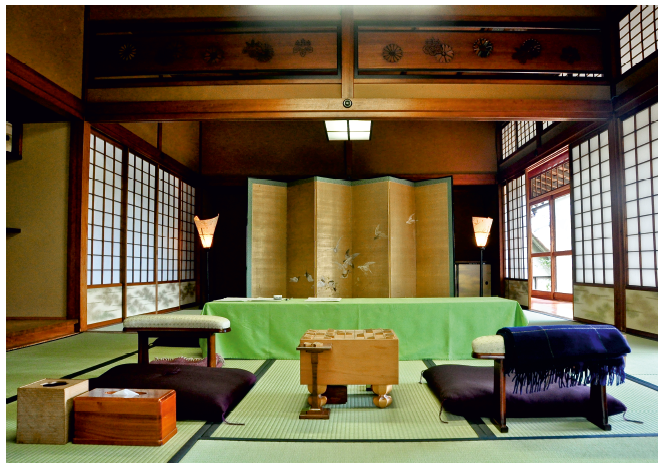 Other events:
25th May at 18:00 at the Historical Town Hall: Japanese farce back in Košice.
Shigeyama Motohiko, Kyoto-based professional actor of the Okura school, ambassador of the Japanese Ministry of Culture in Europe in 2013, together with the ensemble of the Little Kyōgen Theatre Brno (Czech Rep.). perform 3 kyōgen farces (traditional Japanese theatre form):
Susugigawa ("Large linen") – in Czech,
Yobikoe ("Voice behind the door") – in Czech,
Chacubo (Tea vessel) – in Czech and Japanese.
25th of May, at 21:30: Shut up, Play! / Original Tempo (JP), Hlavná Steet 20, yard (as part of the USE THE C!TY festival).
26th of May, at 19:00: concert by the Tokyo Metropolitan Symphony Orchestra, State Philharmonics, Košice, Moyzes Street 66.